In Part 1 of the VOICE 19 post we discussed the pre-session workshops and event kickoff keynote. In Part 2 we will write about some of the panels and presentations attended by our team.
With nearly three hundred sessions, VOICE 19 reflects just how much the voice space is growing. However, with that many sessions, it was also quite a task to have to choose which ones to attend during the 3-day span. We noticed that although the majority of participants were from the US, there was a robust representation of European agencies, developers, and evangelists. There was also a strong showing of women in the voice space with booths, panels, and sessions.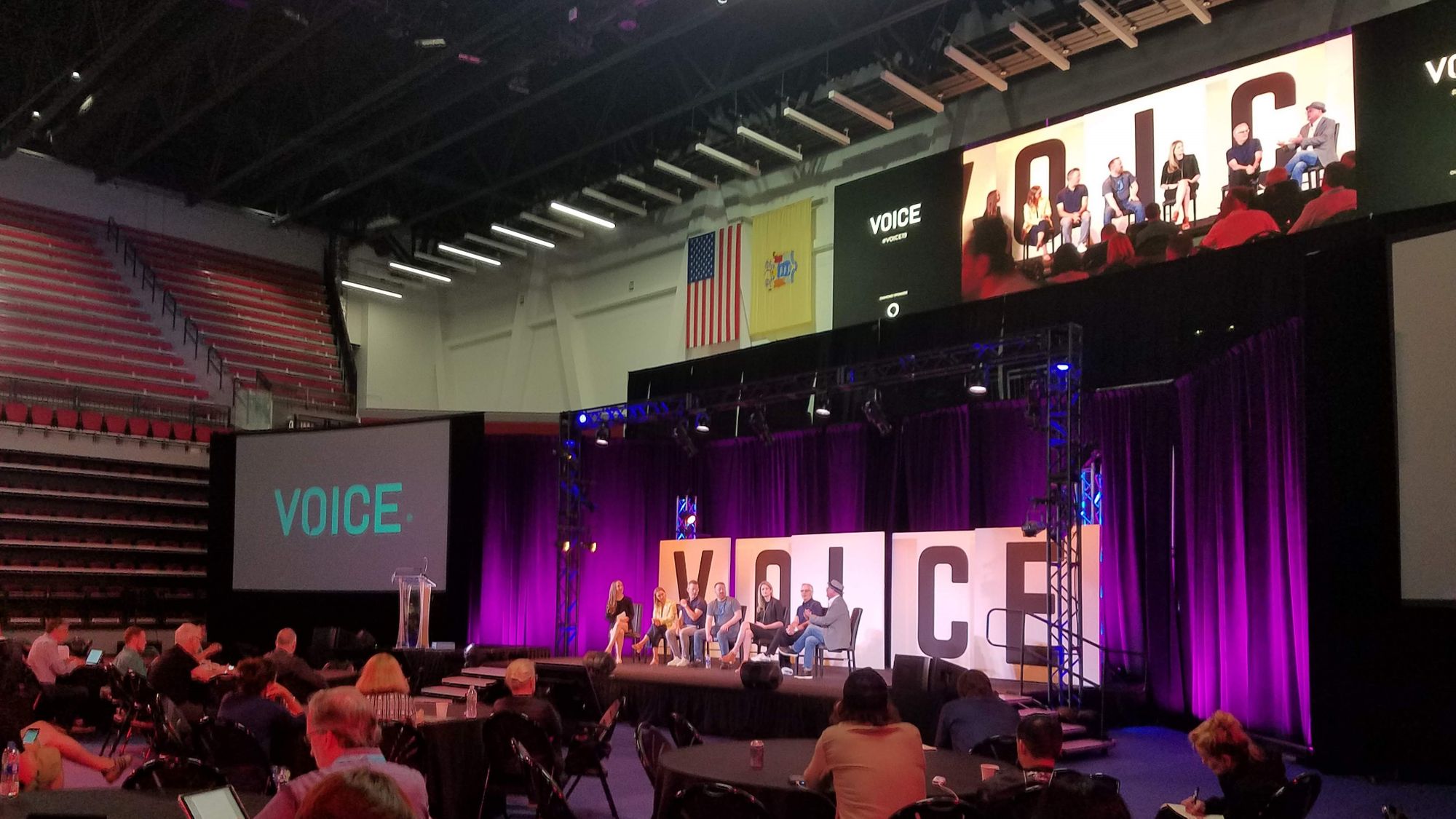 Paul Jackson, Senior UX Designer for the BBC Voice + AI, presented a deep dive into how they've worked to continuously improve their BBC Kids skill during his talk, Deceptively Simple - Designing a Voice Experience. Their work involved a lot of user testing. The BBC voice team has even put together a set of voice design principles based on their experience that they've published online. They're great and worth checking out: How to design a voice experience.
One of the most exciting opportunities for voice platforms is the long-awaited ability to "click" on audio ads. For example, while listening to a podcast, if the listener is interested in a product being advertised, they could just say "tell me more," and be sent an email about the product. This could have a huge effect on audio advertising response rates and attribution, as discussed during the Advertising in the Age of Voice panel. Needless to say, major audio platforms like Pandora are looking very closely at these possibilities. It's still early days, but it's pretty clear where things are going.

Among the most popular use cases for voice assistants and smarts speakers is streaming of news and podcasts. For instance, 25% of NPR's streams are now conducted through smart speakers. The panel, Major Media in the Voice-First Era featuring BBC, ABC and NPR focused on the challenges that voice presents to public service broadcasts on voice platforms. The takeaways of the panel can be encapsulated into three points: we have to be ruthlessly audience-first; the need for an empathetic voice experience; and that it requires experimenting for the sake of learning.
"We have to be ruthless about being audience-first ... [and] figuring out what kind of problems you're trying to solve for the audience,"
-Joel Sucherman, Vice President, New Platform Partnerships, NPR.

One of the biggest questions in the voice space is monetization of skills. Alexa Evangelist, Akersh Srivastava led an advanced in-skill purchasing session, Build and Monetize an Alexa Skill Using In-Skill Purchasing. He provided great insights about In Skill Purchasing implementation including some tips on things to avoid like not having a cancellation / refund option, trying to upsell more than once in a session, or dropping a user session right after purchase.

The lottery is an almost ideal use case for voice, as discussed by Eddie O'Leary (Founder and President, COLAB) and Terri Rose (Director of Marketing, Virginia Lottery). It's a situation where people frequently want to use the same function, like checking the winning lottery numbers every day, and where using a smart speaker presents an obviously lower friction opportunity. The Virginia Lottery is leading the way on this opportunity, and most other states are watching closely how Virginia is doing it. So far, it's been a big success. Look for more states to follow suit over the next year.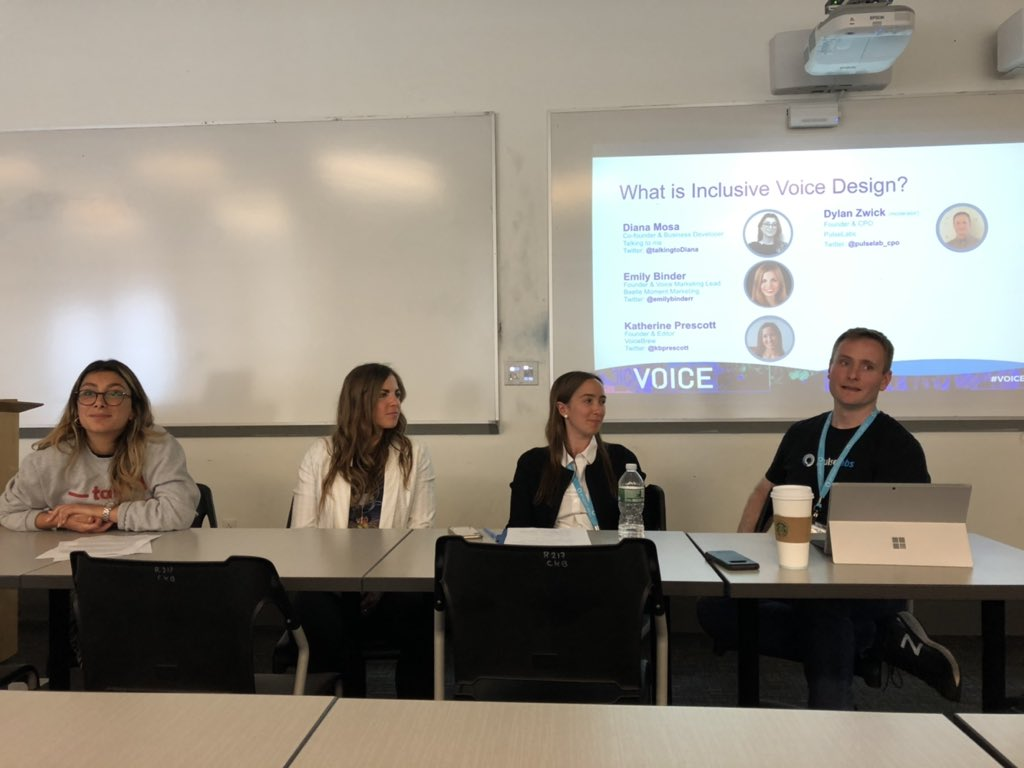 Notable at the summit was the thread of access and inclusion with over 15 agenda items in which speakers addressed the possibilities and limitations of voice-first technology. These came through in presentations such as Cathy Pearl's (Head of Conversation Design Outreach, Google) The Democratization of Voice in which she discussed how can we make voice tech accessible to all people, which coincided with Google's announcement that it will partner with the Reeve Foundation to donate 100,000 Google Home Minis to individuals with paralysis. Other sessions included: Christina Mallon's (Account Supervisor, POSSIBLE) presentation on the forthcoming Alexa Skill by Tommy Adaptive, the "world's first adaptive clothing line," by Tommy Hilfiger; How On-the-Go Hearables Expand Opportunities w/ Voice, recapped by panelist Dave Kemp in his blog; Removing Barriers to Accessibility Through Voice; What If You Don't Have a Voice 2.0?; and What is Inclusive Voice Design?. The thread followed through to the closing keynote A Journey Through a Deaf Developer's Eyes by Thomas Chappell of Prudential Financial (photographed in the top image), which he gave in ASL.
"Inclusive companies are 1.7 times more likely to be innovative leaders in the market, that's almost two times as more. Here we are, at one of the biggest innovative conferences discussing collaborating our ideas into a bigger reality."
-Thomas Chappell of Prudential Financial
Pete Erickson and the Modev team deserve a HUGE congratulations for organizing and launching such a successful conference! It laid down the groundwork for many conversations, thoughts, and collaborations as the voice ecosystem continues to evolve. We are grateful for the connections that we made with the voice-first community. See you all next year. The countdown for VOICE 2020 has already begun!
---
For more insights on the voice ecosystem sign up for our monthly newsletter The Voice Beat.
*Check back in for a guest blog post on the VOICE Summit Awards and Alexa Cup by our Chief Technology Officer, Ashish Shah.