Last week, members of the Pulse Labs team spent four days fully immersed in VOICE Summit 2019. Held at the campus of NJIT in Newark, the Summit boasted 350 speakers offering 280 sessions on a wide-range of topics ranging from accessibility, to advertising, analytics, broadcasting, design, UX, security, and sonic branding.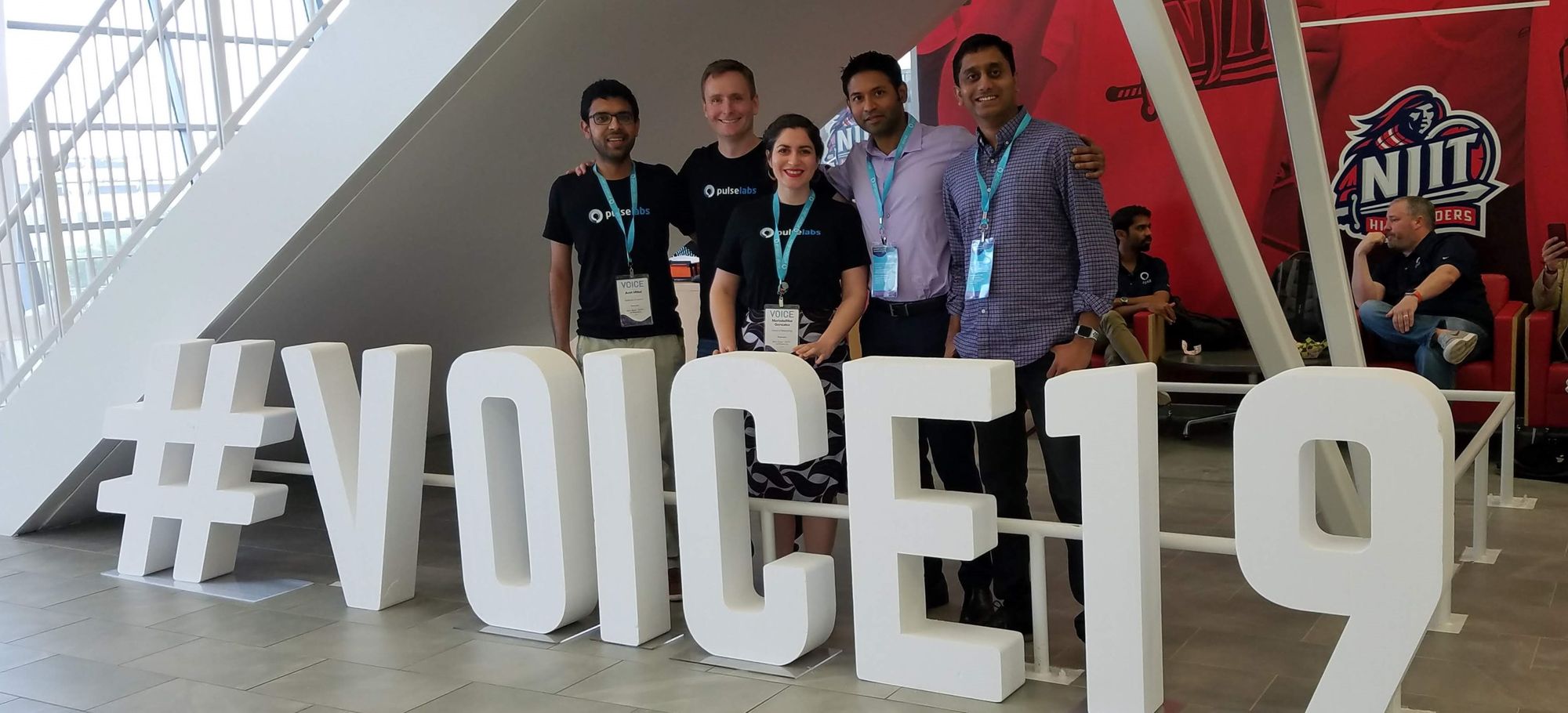 VOICE 19 drew over 5,000 attendees (over twice as many as last year!) from across the globe, projecting just how large the voice ecosystem has grown (and continues to do so). What a conference this size shows us is the sheer explosion of interest and integration of voice-first technology since the release of Amazon Alexa in late 2014 and Google Home in late 2016. Less than five years later, we find Alexa integration in over 60,000 devices ranging from light bulbs to doorbells and cars, and an explosion of over 90,000 Alexa skills (up from the original 10 upon release).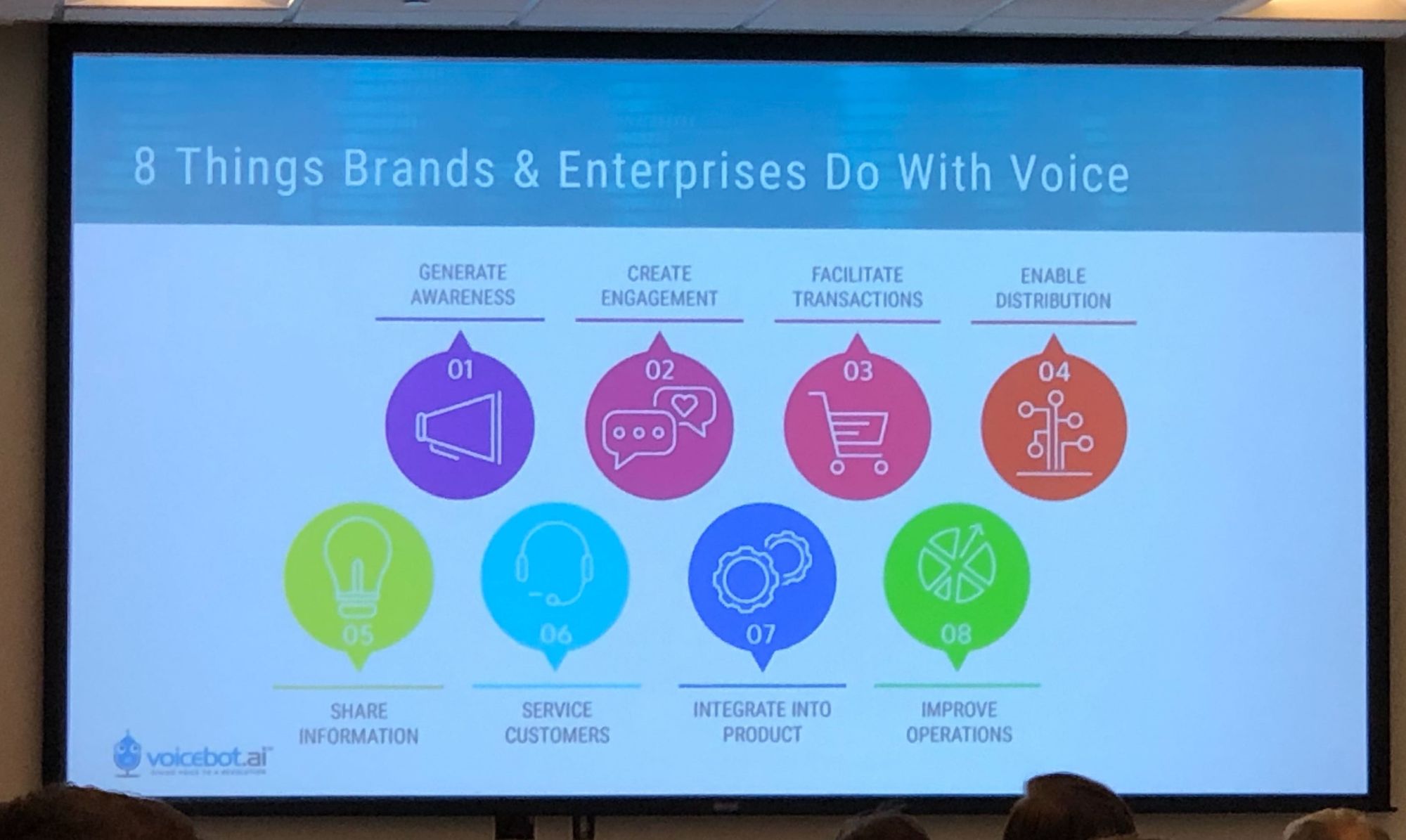 The Summit started off with a busy pre-conference day (aka Day 0) with check-in for speakers, attendees, and exhibitors, as well as workshops and a hackathon. Workshop topics covered audio branding, voice interaction design, conversation design, games, and voice strategy. The afternoon workshops: "From Concept to Personality: Creating Engaging Voice Experiences" by Adva Levin (CEO, Pretzel Labs), "Voice Design to Engage the Huge 50+ Market" by Heidi Culbertson (Founder and CEO, Marvee), and "Voice Strategy Workshop" by Bret Kinsella (Founder, Voicebot.ai) were all packed. Kinsella, joined by Ava Mutchler also from Voicebot.ai, led a standing-room only workshop in which they guided attendees through the elements of developing an actionable voice strategy that matters. The three-hour bootcamp led participants through the strategy-building process including the discussion of characteristics of voice strategies: explorers, integrators, players, and minors, as well as the importance voice app discovery.
VOICE 19 was kicked off the next day with a welcome message by Modev CEO, Pete Erickson, followed by keynotes by Amazon's David Isbitski (Chief Evangelist, Amazon Alexa and Echo), Samsung's Adam Cheyer (Co-Founder of Siri & VP Engineering, Viv Labs), and Microsoft's Noelle LaCharite (Founder, AI Leadership Institute).

Isbitski's keynote addressed the evolution of Alexa since 2014 to present highlighting for attendees that there are now over 90,000 Alexa skills and that the platform's available in over 80 countries. He enthusiastically discussed the power of voice technology,
"My kids are just as excited and up to speed on the tech as my parents[...] There is no barrier there."
-Dave Isbitski

Isbitski also announced the launch of Amazon's "Skill Flow Builder," a new tool for creating interactive stories such as RPGs and interactive fiction, where related narrative elements can be added to the skill without relying on coding. Manu Sharma (Technical Director) and Dana Peterson (Mobile Game Producer) of Electronic Arts came on stage to discuss how they used Skill Flow Builder for the choose-your-own-adventure style storyline for The Sims 4: StrangerVille. They discussed the speed at which they could build and edit the stories because of this tool.
The conference was populated by talks and panels by platform (Amazon, Google, Samsung, and Microsoft) evangelists, brands, agencies, startups, developers, and members of the NJIT community. The conference was abuzz with conversation. Discussions were held on conference floors, in hallways, and spilled into Twitter, where voice-first enthusiasts wrote quick recaps and gathered feedback on product rollouts and presentations.
Be sure to check back in for Part 2 of our VOICE Summit 19 wrap up where we'll discuss presentations that our team attended.
---
For more insights on the voice ecosystem sign up for our monthly newsletter The Voice Beat.