When a report came out earlier this year that cross-platform, multiplayer online shooting game Fortnite made almost half a billion dollars just on Apple devices in 2018, it reminded us of an anomaly we'd found in a survey of popular voice games.
Fortnite Dropper is a simple Google Assistant action developed by enterprising Texas high schooler Darshan Bhatta that picks a location to drop into in Fortnite Battle Royale. At the time of our survey it was the second-most popular(!) game by review count on the Google Assistant platform, and had garnered more than twice as many reviews as the third-most popular game, Google-produced Lucky Trivia. Fun Tricks, also produced by Google, took the top spot.
There were a few other interesting observations from the survey, and we thought we'd share them here for your perusal. Enjoy!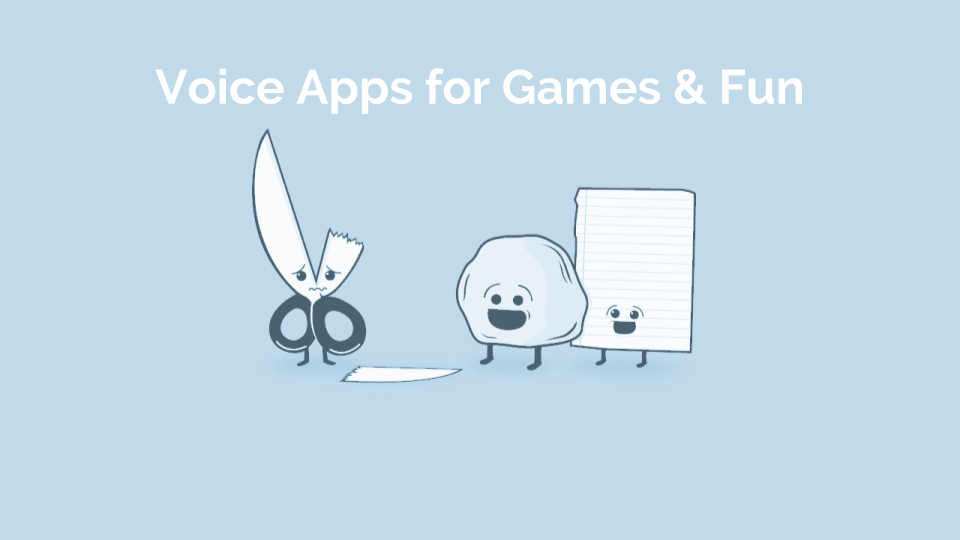 As of September 1, 2018, there were just shy of twice as many Alexa Skills as Assistant Actions across the six categories we were looking at (Games, Music/Audio, Communication, Weather, Shopping and Social). Games was the largest category for each, making up 46% of Amazon's 9,134 skills and 52% of Google's 4,644 actions. Music was the second largest category at 40% and 36%, respectively.  
The Alexa Skill Store had 73% more game applications than the Assistant marketplace and, in contrast to mobile game platforms (ie iOS and Android), almost none of the most popular game applications were published on both stores.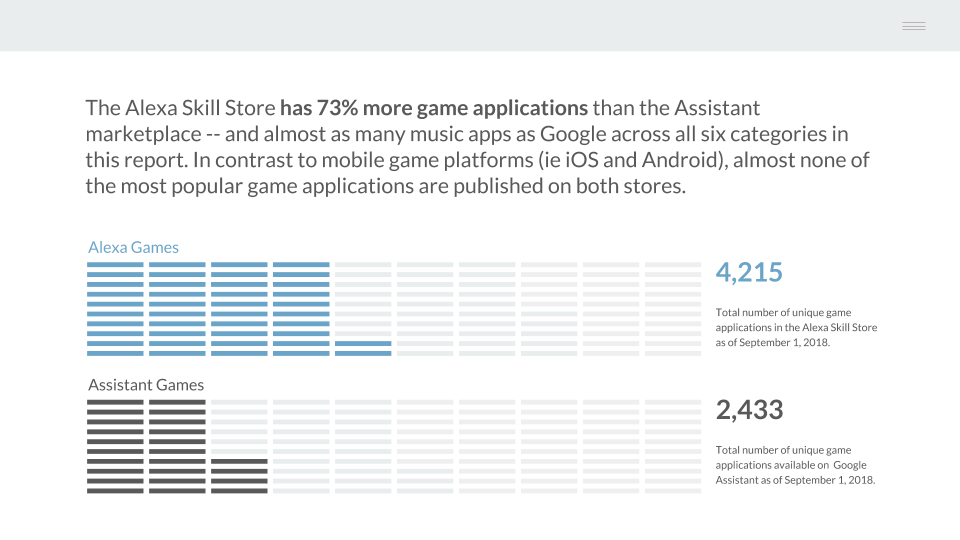 While Assistant had fewer titles, its top games rivaled those on Alexa in both popularity and user sentiment. Save for the aforementioned companion app to popular video game Fortnite, however, these games were published by the platform (Google) itself. Alexa's game leaderboard, in contrast, was made up of third-party skills not available on Google's platform.
Top Alexa Games by Review Count (as of September 1, 2018)
Song Quiz by Volley (9,461 reviews, 4.8 star rating)
Question of the Day by VoicePress.ai (3,714 reviews, 4.9 star rating)
Jeopardy by Sony Pictures Television (2,378 reviews, 4.1 star rating)
Top Assistant Games by Review Count (as of September 1, 2018)
Fun Tricks by Google Inc (7,561 reviews, 4.6 star rating)
Fortnite Dropper by Darshan Bhatta (4,639 reviews, 4.6 star rating)
Lucky Trivia by Google Inc (2,046 reviews, 4.5 star rating)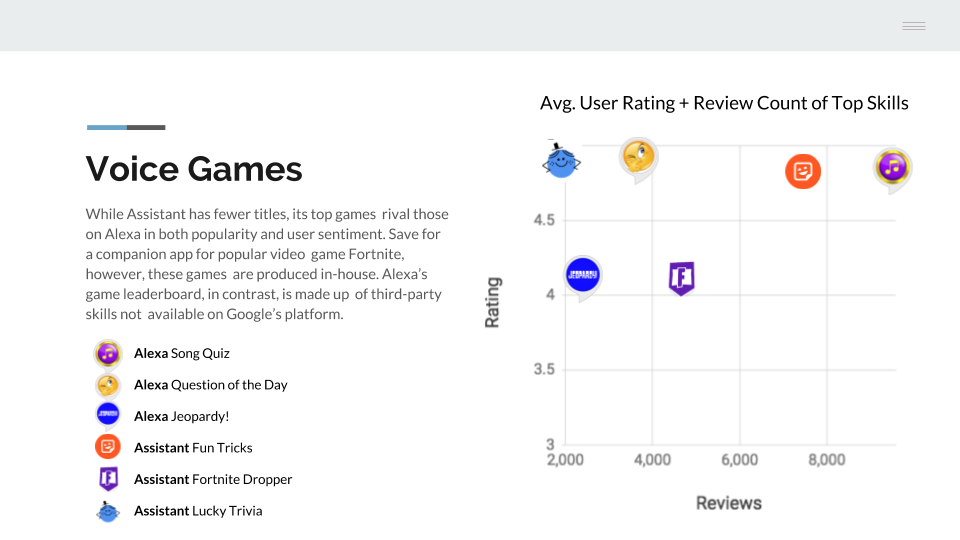 Speaking of voice games, the extremely popular Jeopardy! Alexa skill was actually nominated for an Emmy!